Race Monitor v2.5 for iOS
May 1, 2015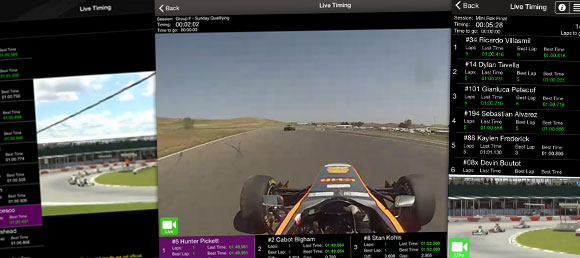 We're extremely excited to announce the release of Race Monitor v2.5 for iPhone and iPad!
With the latest version of Race Monitor for
iOS
, you can follow live video and audio coverage of races directly within the app. The update includes support for multiple audio and video feeds for each race (when available), and you can quickly and easily switch between them.
In addition to being able to view video within the app, you can also display both live timing and video on an external display while maintaining full control of live timing on your device. Simply connect your device to your tv via AirPlay to an
Apple TV
, or a TV Out adapter, and sit back on your couch and enjoy the best of racing on your TV!
For iPad users, and those that display the video on their TV, you can quickly choose between multiple different layouts to match your preferences. On iPhone, simply rotate your device to landscape for fullscreen video.
We're also pleased to announce that
eKartingNews
,
KARTS
, and
*RaceCast!* by RacerConnect.com
have all committed to offering their coverage within Race Monitor, and we're working on adding more every day.
If a race you follow offers live media coverage, but it's not yet available within Race Monitor, we encourage you to reach out to them and politely ask them if they can add it to Race Monitor.
Race Monitor Media Services
If you provide video or audio coverage for a race, or want to, we've made it easy for you to add your coverage into Race Monitor in several ways.
For those of you providing your own streaming services, or using a service like YouTube Live, you can now easily add your own stream to Race Monitor through our website.
If you're a media company and would like to add your coverage to Race Monitor, we have a new Media account type that will allow you to add your coverage to the races in the app. For those of you that offer pay-per-view, or require a login to access your content, the Media accounts include the ability to restrict access to your media through our Media Gateway.
We're also introducing the first beta of a new service called Race Monitor Announcer Stream that makes it easy to stream an audio feed from your announcer, or from another source, right from within our website. The service is available to all Enhanced and Premium Relaying accounts.
Finally, we're in the process of testing and deploying our own adaptive-bitrate, HLS video streaming services that you can use for streaming your video to Race Monitor, and optionally on your website.
Contact us
today to get started offering your coverage within Race Monitor, or to find out more.
Pre-iOS 7 Support Changes
We've done our best to support older versions of iOS for the past few years, but with our limited development resources, it's become increasingly difficult to support both pre and post iOS 7 devices.
Apple reports
that the number of devices running iOS versions prior to iOS 7 is around 2%, and we feel that it's now time to drop support for those older versions.
The new media integration requires more processing power to handle streaming audio and video, and if your device doesn't support at least iOS 7, it's likely that it simply doesn't have the processing power required to display both live timing and video at the same time.
This change will allow us to focus more resources on improving the app going forward.
Android Update
In the past, we've done our best to release updates for
Android
at the same time as they're available for iOS (and we'll do our best to continue that in the future as well).
However, the amount of work required to develop the new media integration features means that we either had to hold off the release of the iOS update for several months while we develop the corresponding Android updates (and nobody gets to enjoy them), or release the iOS update ahead of the Android one. It's an extremely exciting update, and we couldn't justify holding it back.
Rest assured that we're working hard to build the new media features into the Android version, and we'll release the update as soon as it's ready to go.
For additional information on all the Race Monitor has to offer, please visit
www.race-monitor.com